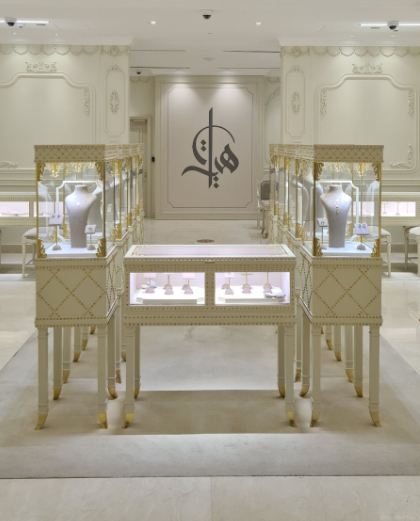 Established in 2011, Hairaat Jewellery is an original Qatari Luxury house that grows through continued creativity, invention, and innovation.  At the end of 2019, Hairaat's first flagship boutique opens at The Gate Mall, Qatar. In devising the decor, Nada Al- Sulaiti,- the brand owner and jewellery designer, remained true to her aesthetic ideals. She combined decorative components from French architecture with her native land Qatar's traditional elements, all in one space. This resulted in a boutique with a lavish interior, that is luxurious yet cosy.
"We chose the interior to incorporate elements of French design. If you look around the boutique, you will notice its strong resemblance to a French salon. For example, the walls feature panels typical of Ottoman type apartments in Paris, but a similar style of decor can also be found in the interiors of my own country. The beige colours, as well as the gold-plated elements – like the 18,000 studs outlining the window displays – are reminiscent of the beaches here in Qatar," says Nada, as we marvel at the display windows in the main salon.
The cosy Hairaat boutique is divided into three parts: the main retail area, a semi-private room, and a closed space for VIP guests, located at the very end of the boutique parallel to the office wing. All exquisite pieces are displayed in cases that catch the eye as soon as one walks in the boutique. On the right are displays with unique necklaces, earrings and rings, as well as the iconic Al Jassasiya collection, and coins shining within the Naira pendants. On the left is a stunning jewellery set of pieces from the Al Zubarah collection, with carved pearls and gold jewellery for casual everyday wear. 
"The main salon is divided into two areas: one represents the desert, while the other  represents the sea. Some displays feature natural beach stones placed inside for decorative purposes, or as props to reproduce the theme. In the seaside part of the salon, one notices a lot of pearls and everyday pieces, while the desert side of the salon is dedicated to our Al Jassasiya Collection. As soon as you enter the boutique, you will see our latest Saba collection sparkling before your eyes" Nada explains.